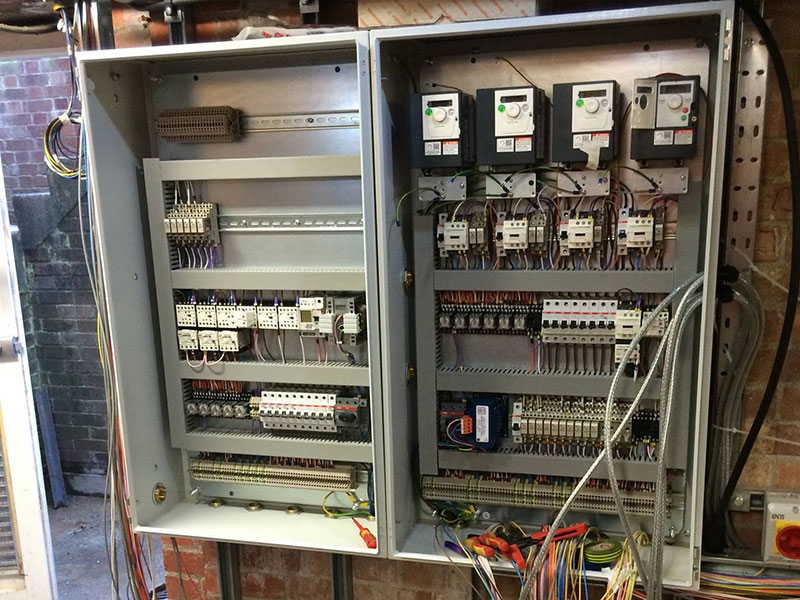 The boiler room at the Forsten Clinic was initially stripped out completely, in preparation of the installation of the new boilers and controls. Asbestos was found in the boilers and in the lagging around the pipework, this was dealt with by a professional company who specialise in asbestos removal. This affected our installation because of low levels of asbestos were found to have seeped into the brickwork, and therefore the brickwork could only be drilled by persons using the suitable PPE (Personal Protective Equipment), and breathing apparatus. It was decided that vertical lengths of the channel would be installed across the walls at a set distance apart, and our containment would be fixed to the supports.
Firstly, 50 x 50 galvanised trunking was installed horizontally around the perimeter of the boiler room and the control boxes mounted. Galvanised conduit was used to carry the cabling from the trunking to the positions of the isolators for the pumps and to the various valves, temperature sensors and of course the Boilers themselves.
Wiring was installed through the containment using the wiring diagram and connection drawing issued to ourselves by the heating consultant. All cables were labelled at both ends and the connections were made sound by the use of ferrules which were crimped to each of the cable connections. All isolators were also labelled with which piece of equipment they isolated.
The control boxes were connected following the wiring diagram and specification and the mains cable connected, energised and commissioned by the heating consultant.
Lighting and small power was also installed to the boiler room.
Gallery